Together with our partners ÅF and DB Schenker, Myloc is responsible for construction logistics solutions at the construction project University Hospital in Umeå. Below you can read ÅF's press release about the collaboration and the project.
---
The University Hospital of Umeå (NUS) is currently undergoing both the extension and renovation of its facilities. Since, 2017, ÅF has had overall responsibility for building logistics at the hospital, with resulting reductions in building costs, reduced environmental impact and shorter construction periods.
Together with partners Myloc and DB Schenker, both strategically selected for the assignment, ÅF has designed and implemented a specifically adapted building solution. As the hospital's logistics partner, ÅF has designed the logistical structure based on a thorough analysis of information streams, needs and conditions. In order to guarantee efficient and sustainable logistics, ÅF is responsible for implementation, management and maintenance of the logistics structure. Västerbotten County Council is the client for the assignment, which involves construction for a total cost of SEK 1 billion per year within the hospital zone until 2023.
"Working with Västerbotten County Council and our partners on this project is both exciting and enjoyable. ÅF is in a position to create a first-rate, holistic logistics solution that is both cheaper and more efficient for the hospital. In this case, we are expecting to save the customer between 10 and 15%," says Petter Wadmark, project Manager at ÅF.


Reduced transport positive for the environment and safety
The building-logistics hub is located at DB Schenker on the outskirts of Umeå town centre, and this is where suppliers deliver their materials. From there, deliveries of building materials are coordinated in order to reduce the number of transports arriving at the hospital, something that benefits both the environment and safety in an area that is visited each day by large numbers of staff, patients and visitors. All deliveries of building supplies are notified through the joint, cloud-based Myloc Construction supply chain management system, with resources such as unloading personnel allocated centrally to streamline the use of space and manpower.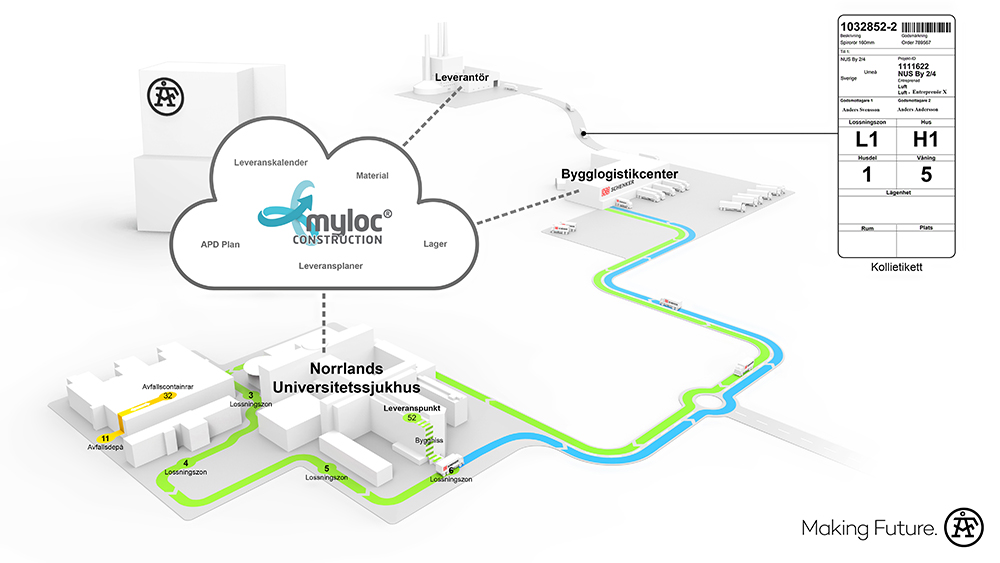 This results in reduced marshalling of materials within the hospital area, something that Malin Viklands, project manager at Västerbotten County Council, sees as a benefit.
"ÅF shoulders full responsibility for construction logistics at NUS and has developed a logistical solution that allows us here at the county council to feel confident that materials will flow efficiently without incoming and outgoing works traffic disrupting our own operations."

Digitalised flows
Myloc digitalises the entire supply chain and makes all information available to the relevant parties throughout the chain, both online and via their app. Available features include an unloading calendar for booking unloading zones and resources, the ability to call off deliveries from the logistics hub, with traceability down to delivery-note level and monitoring of metrics.
Robert Björnerbäck, the man responsible for DB Schenker's contribution to the project, describes their working methods.
"We identify where the materials are to be used and deliver them to the correct building, floor and room. This frees up the time of carpenters and painters, who can continue with their work without wasting time looking for materials. It is vital that we avoid disrupting [the hospital's] operations; patients should remain unaware that we, or the builders, are on site."
Digitalisation, in combination with DB Schenker's door-to-door service within the hospital area, does away with the need to search for materials. This means that tradesman can concentrate on the construction process and leave the supply chain in the capable hands of the logistics partner. Door-to-door delivery is booked for approximately 70% of deliveries by DB Schenker to the hospital, something that suggests that this service is a much-appreciated function.
A survey of contractors conducted by ÅF during spring 2018 regarding the effects of the logistics solution yielded many positive comments, for instance highlighting, "the convenience of the system and the amount of time we save and can spend more productively".

Someone to take overall responsibility
Work on the project will be intensifying during the autumn, placing a great deal of pressure on logistics – both operational and systematic.
"Implementation has gone well and both the contractors working on the project and staff at the logistics hub are now comfortable using the Myloc supply chain management system. During the autumn, focus will gradually shift to including suppliers in the system in order to achieve full traceability and transparency from supplier all the way to site. Only then will we have really succeeded in uniting the full supply chain for the project including deliveries and materials in a common system," says Magnus Rydberg, subproject manager for system support at Myloc.
ÅF foresees an increasing demand for this type of assignment in future, as clients begin to realise the benefits of someone taking overall responsibility. This logistics solution is scalable, making it suitable for both large and small projects. In future, Petter Wadmark hopes to see ÅF participating at an early stage of procurement processes, preferably prior to project design and purchasing.
"Participation at an early stage will allow us to deliver a holistic product from day one, both in terms of time, environment and safety. A quality, holistic logistics solution offers enormous savings in time and expense," says Petter Wadmark, project Manager at ÅF.
Malin Viklands, project manager at Västerbotten County Council, agrees and sees the importance of involving a logistics partner early in the process.
"The procurement of a logistics partner at an early stage leaves no doubt as to who is responsible. This makes the work easier for everyone involved," concludes Malin.