Myloc Construction 
Digitalization of construction supply chain management
Myloc Construction in numbers
---


Myloc® Construction
– A platform for the Digital Construction Company
---
Myloc Construction helps you enter and benefit from the intelligence era.
• Construction operations with reduced cost, time and risk
• Simplified and Industrialized processes
• A knowledge focused learning organization
Myloc® Construction
– Our cornerstones
---
Holistic Approach
Silo solutions for individual contractors or suppliers will not do. Managing the development of a diversified industry operation like construction requires a holistic approach. Myloc® Construction enables and simplifies collaboration between different stakeholders in the different stages of construction projects.

Planning is fundamental
Planning is the crucial in transforming operation from problem solving to problem prevention. With Myloc® Construction you release the full potential of employed resources, reducing cost and potentially project lead time.

Digitalization Essensial
With Myloc® Construction you are a big step further on the way to a more automated and transparent operation. Myloc® Construction is a fully digitalized platform but also provides integration opportunities in a range of areas.

Contact us
---


Please, fill in the form to get in touch with us for more information about our solutions for more efficient construction supply chain management.
Myloc Construction – our offer to you
---
Myloc® Construction is based on a tried and tested process framework. Regardless of project size, complexity or sourcing models Myloc® Construction has proven to be functional and efficient.
Myloc® Construction automatically provides an overview of your operation and simplifies work planning and execution. And best of all. It is 100% digitalized.
The construction project anatomy
Myloc Construction is designed to provide a platform for more efficient projects. To do that, we need to be able to coordinate all involved parties.

The basic anatomy of a construction project looks as follows. A project consists of a project management, resources and different attributed. Construction in performed by one or several contractors. Contractors' material comes directly from suppliers or via a consolidation center/terminal.

The project creates a network of companies and users.

Material planning
A construction project has a variety of materials, suppliers and supply models. With Myloc Construction, you can combine all models within the concept. With a distinct planning model, you are equipped to solve and procatively manage your material supply. The full model includes all stages from procurement planning to supplier confirmation and shipping.

Delivery Planning
The ability to utilize and coordinate delivery areas and resources with a variety of deliveries proactively and in real time is crucial. With Myloc Construction, we provide you with easy and efficient best practice routines.

Consolidation center/terminal
When overall conditions are such that the construction project benefits from the utilization (fully or partly) of a consolidation centre/terminal, Myloc Construction provides you with a tailor-made process framework how to collaborate between contractor, supplier and the consolidation center itself. Also, the packagee includes a full process model for the internal operation of the consolidation centre itself.

Materials reception
Myloc Construction helps you set the routines for receiving and forwarding. The solutions cover everyting to work effiently with materials reception.

Carry in
You want to have control over where your material/packages are at every time. When will a specific package be moved into the building? When was a specific package moved? With Myloc Construction, you always know.

Material Consumption
With Myloc Construction you have full control over where and when material is consumed. We make it easy to monitor planning quality and to find improvement areas.

Myloc® Construction is for all involved in construction. Regardless if you are from Construction management, a developer, a (sub)contractor, a material supplier or a logistic service provider Myloc® Construction provides easy to use functionality and seamless and collaboration co-workers in project.
Myloc Construction Portal – a cloud service
Myloc Construction is a true cloud service. No installation needed, it is always accessible online. Depending of your role in the construction project, you will see a uniquely designed user interface with all required functionality easily accessible. Everything described under the tab "Processes"is also represented with corresponding functionalities.

Full scalability and flexibility
Regardless of project size, Myloc Construction can help you improve efficiency. The individual is registered and configured in our portal from our first meeting. The project can then step by step expand with new contractors, suppliers and resources.

It is possible to bundle projects (also with different general contractors) in development areas. Users can easily be added or removed as the project proceeds.

Myloc Go – app
Some features need to be accessible in the field. Our app Myloc Go is the solution. Fully integrated in the cloud service, all field applications are accessible right under your thumb. Myloc Go includes features such as for goods reception, delivery planning, carry in, deviation reporting, photo documentation, GPS-tagging and much more.

Online slide show presentation
Information distribution and access is important. To highlight important information and/or to spread to external partners the built-in Myloc Construction Slide Show is probably the easiest and most efficient way to work.

The construction project configures a series of virtual slides, including online planning information, and you can also tailor a presentation that is accessible over the Internet. No user registration needed. The The Slite Show can be displayed on any screen, from a wall Tv screen to an individual smartphone.

Integration with Myloc Construction
Myloc Construction does not exist as a solitude. Many areas have already been digitized and now also those who have been more manual are now becoming more digital. Although no integration is required, there is a growing number of areas where seamless integration is useful. Hence, Myloc Construction is designed with multiple integration point, such as areas like:

– Purchase orders
– Transport orders

Myloc Intelligence
Myloc Construction is designed for efficient operation. When you need specific KPI, benchmarking, ability to drill down in statistics, an intelligence tool is necessary. It can be about resource utilization, supplier performance or consolidation center utilization. With Myloc Intelligence you have a web-based online tool in your laptop or smartphone. Always updated and reports ready when you need them.

Regardless of concepts and software. If not properly implemented in operation, it is difficult to reach the full potential. We offer professional services for you to get the most out of Myloc Construction.
Start at the beginning
The earlier you can start planning the different acitivites in the project, the earlier you will be able to see potential risks and problems and be proactive.

Design project(s) logistic model – beforehand
When you know what (size m2, floors, what kind of building etc.) you are going to build and where you are going to build, it is easier to forecast your material flow, identify bottlenecks and compare different supply solutions from a cost benefit perspective. We help you design the logistic model beforehand so the construction project can be performed efficiently thooughout the entire process.

Training
We provide training of everyone from project management to super users and training trainers. The software itself is easy to use. We educate you to get the most out of it.

Support
Our support is available all working days. They are easy to reach and always give you a fast response.

Best practice routines
We have been involved in 100s of projects and we know the do's and don'ts. Our professional team helps you find the most efficient way forward for you.

Project Implementation
Our professional team help you throughout the entire implementation process.

Senaste nytt inom bygg, bygglogistik och Myloc Construction
---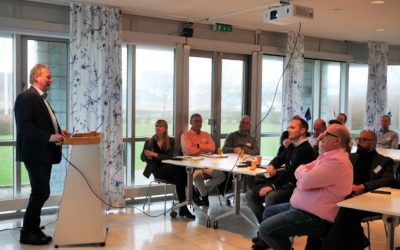 This week we organized an event for Myloc Logistics users. The event took place at our customer Port Helsingborg and other participating customers were Ragn-Sells, Meca, GDL and DB Schenker. Thank you all for an inspiring day with many interesting discussions....